Dwarf Hamster toys are essential for giving your dwarf hamsters a healthy and happy life. There is a multitude of homemade solutions and toys available to buy that will help prevent boredom and satisfy your dwarf hamster's natural curiosity.
A Hamster Wheel or Flying Saucer will provide the mainstay of exercise for your hamster and should be supplemented with chews, toys, tunnels and interesting places to hide and explore. Most hamster toys are made from plastic – so treat these with caution when you first introduce it to the cage. Keep a watchful eye on your hamsters to determine if they are chewing and swallowing the plastic. Make sure any toys do not have any sharp or protruding edges that might cause harm. Wooden, Plastic, and Cardboard toys are likely to be chewed to some extent so you will occasionally need to replace them.
$$$ Premium | $$ Midrange | $ Budget
Hamster Toys
Features
Rosewood Boredom Breaker - An easy to assemble, activity assault course for small animals! Prevents boredom and provides something to chew and keep teeth trim as well as preventing overgrown nails.
Check Price on Amazon
Cute Octopus Design Hammock - Fantastic little bed to keep your pet warm and cozy in cold weather. Ideal size for Dwarf Hamsters & Mice.
Check Price on Amazon
Kaytee Critter Cruiser - 3 in 1 Exerciser. Use it as a racing car or a power wheel. Simple to adjust between uses.
Check Price on Amazon
Kaytee Animal Knot Nibbler - Encourages healthy chewing and playing to help keep teeth trim. Safe for small animals including hamsters.
Check Price on Amazon
Kaytee Puzzle Playground - A fun, colorful plastic fun addition to any hamster cage. Snap-lock construction for easy cleaning and assemble.
Check Price on Amazon
Kaytee Perfect Chew - A chewable toy with metal attachments for use in any hamster cage. Disposable once your hamster devours it.
Check Price on Amazon
Colorful Funny Climbing Ladder - Cute little ladder for small animals. Made of safe wood full of natural fragrance.
Check Price on Amazon
Rainbow Play Bridge - A colorful, fun activity bridge for hamsters to play on and chew. Suitable for Dwarf Hamsters & Mice.
Check Price on Amazon
Trixie Suspension Bridge - Suspension bridge for hanging in a hamster cage. Wooden ladder with lamb fur hook. High quality toy made in Germany.
Check Price on Amazon
Sleep Nest Hideaway House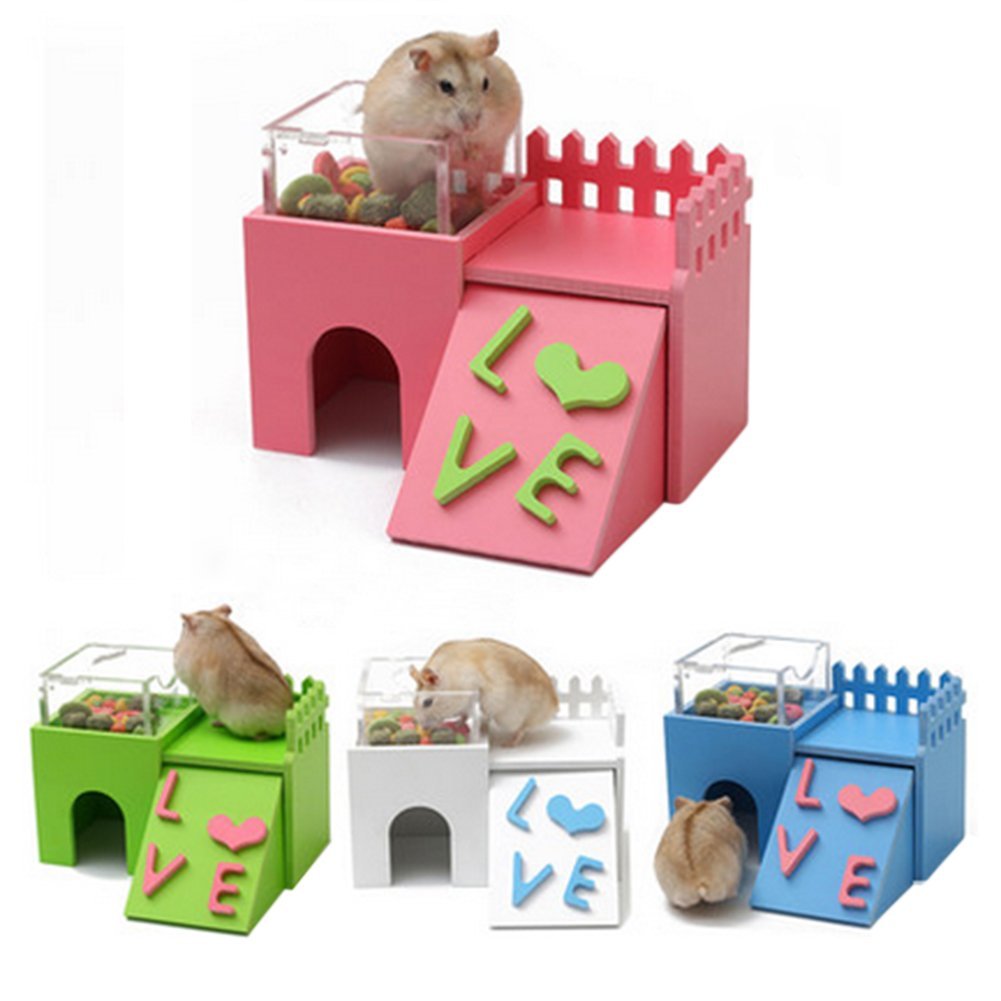 Kaytee Super Pet Puzzle Playground
Kaytee Super Pet Puzzle Playground – My most favorite toy for dwarf hamster toys! It is a fully expandable and inter-connectable Jungle Gym for lots of fun and exercise. It is entirely inter-connectable so you can take it apart and reconnect it into a different shape Jungle Gym to keep your hamster getting bored. You can purchase two or three and connect them together to make even bigger Playgrounds. Your dwarf hamsters might even decide to use it as a bed. The playground is made of a durable plastic material that is easy to take apart and clean. To save time you might want just to soak the whole thing in hot water and leave it out to dry before putting it back in the hamster's cage.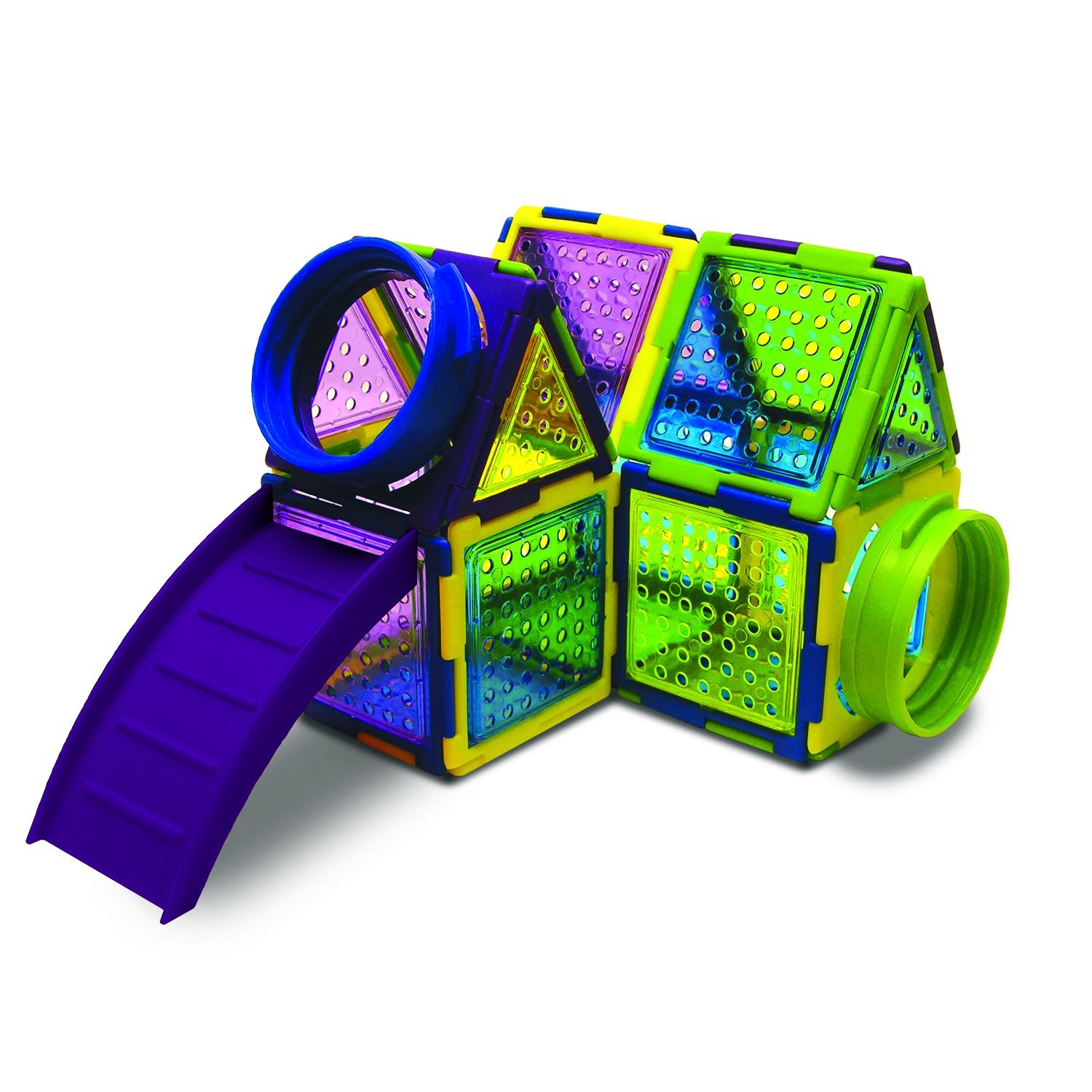 Mini Run-About Exercise Ball
Super Pet Dwarf Hamster Mini Run-About Exercise Ball is a 5-inch hamster ball that is a perfect size for Dwarf Hamsters. Many people make the mistake of buying a generic Hamster ball; however, most of these are too big and designed for Syrian Hamsters.
I firmly believe any small pet rodent needs some out-of-cage time a few times a week to stimulate their sense of exploration and a hamster ball is perfect in allowing this. Make sure there are no predatory animals around when you let your Hamster go for a roam in the ball. Close off any access to a staircase if you are using the ball upstairs.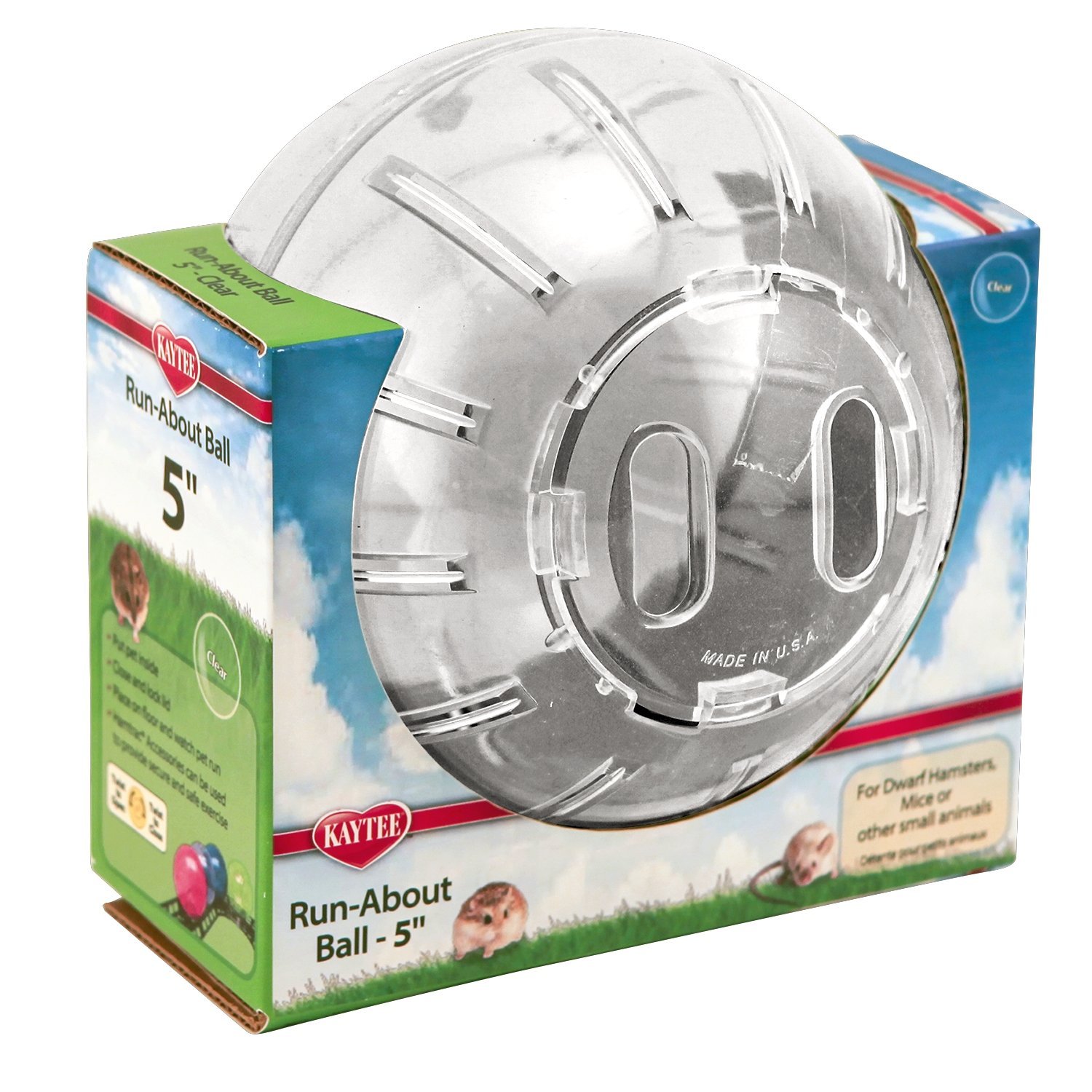 Flexible Wooden Mouse Ladder
Flexible Wooden Mouse Ladder is an incredible apparatus for a hamster cage. Keeping your dwarf hamster entertained with this fun flexible ladder is not difficult. There are seemingly unlimited possibilities for mounting the ladder on a cage with bars allowing you to make horizontal platforms or ascending or descending ladders. You can purchase more than one and link them up.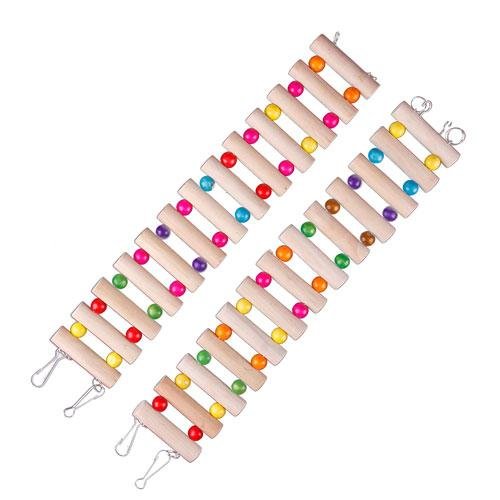 Kaytee Perfect Chews for Hamsters
Kaytee Perfect Chews is a perfect option to help keep your hamster's teeth down. They are ideal for mounting on the top of your cage, and this will give your dwarf hamster to climb and play on, as well as chew. The Perfect Chew includes wooden balls, wheels, a wooden log and a block in teal, yellow and purple colors. It comes with a metal attachment hook to make attaching it to a cage easy. The Chew is entirely disposable so simply discard after your hamster has devoured it.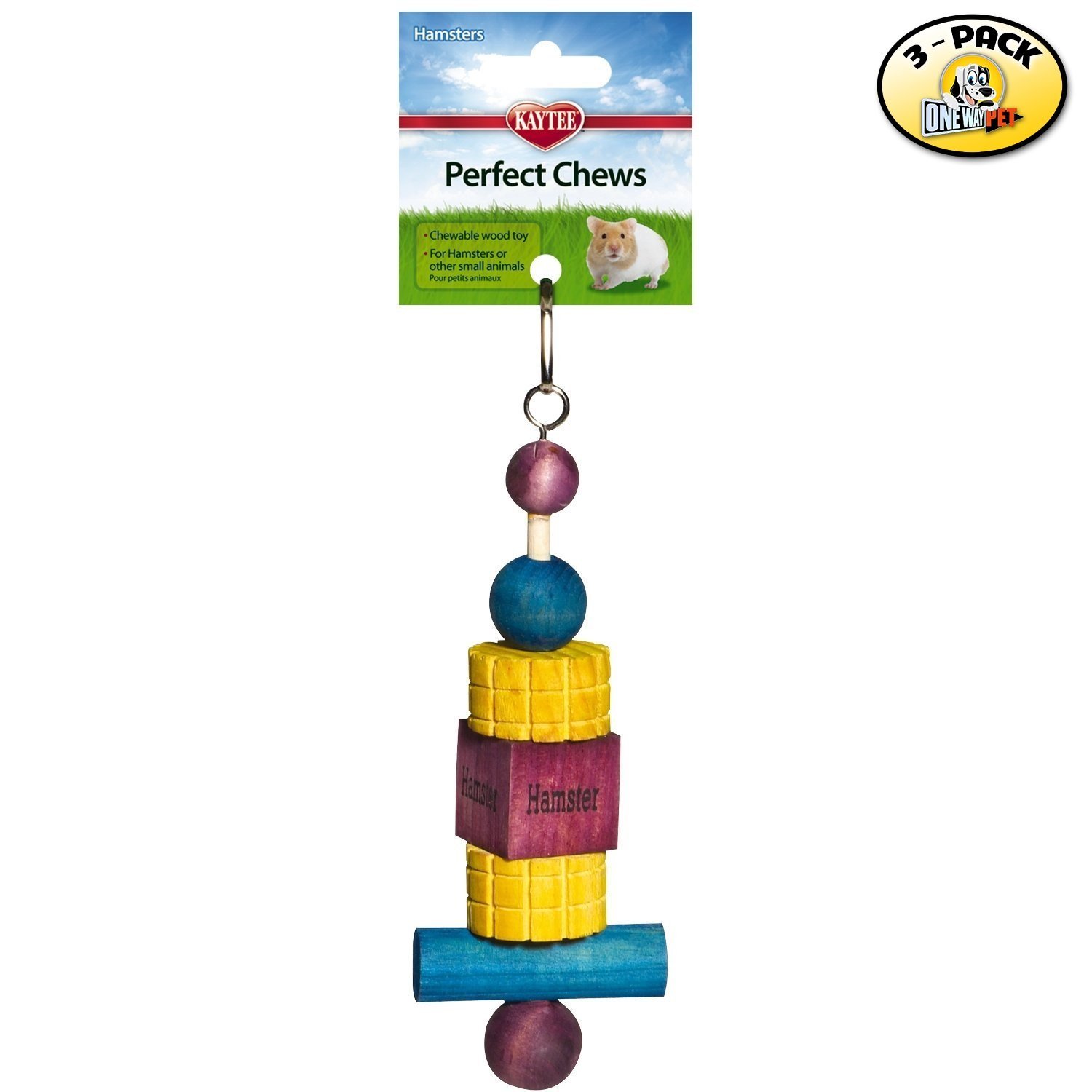 Alfie Small Animal Playground
Alfie Small Animal Playground is a small animal playground that is ideal for Dwarf Hamster size pets. It is a fun playground made with safe materials. It relieves boredom and increases activity levels and Adds a natural look to your pet's home while giving them a fun seesaw to play. It is made of natural wood material making it resistant to staining and odors.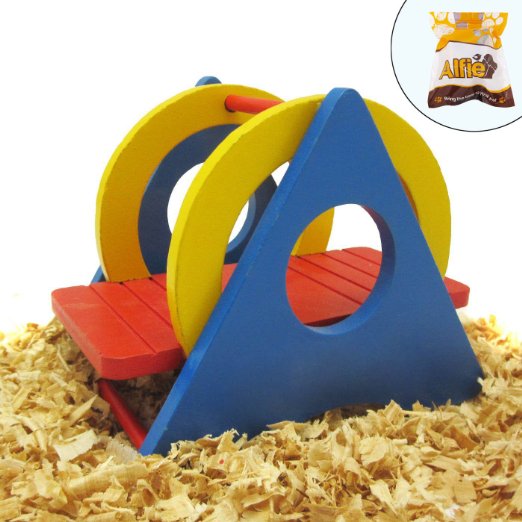 Alfie Karo Wooden Swing
Alfie Karo Wooden Swing is an excellent addition to any hamster cage. It is attachable to the root of the cage and swings allowing your hamster to enjoy the swing. It provides your pet a resting area where they can keep a good look out. It Relieves boredom and increases activity level. Made with pet safe materials, easy to clean and it is resistant to odors.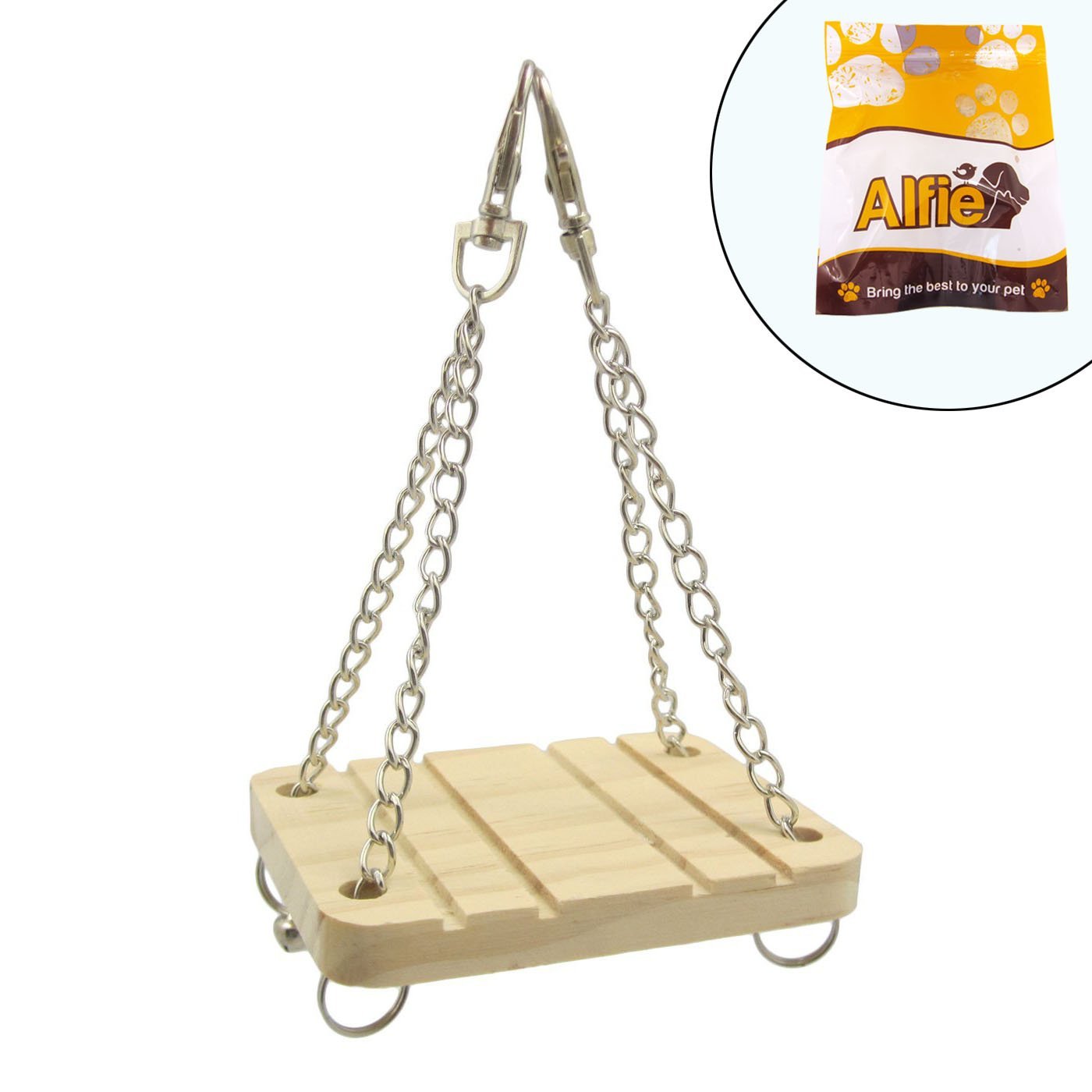 Resources